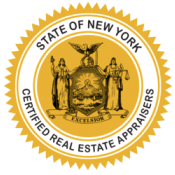 We are a New York Based Independent Real Estate Appraisal Firm
Real estate appraisals are made simple with Amsterdam Appraisals. We take pride in the guarantee that all our clients receive swift results. It is our distinct privilege to assist you in all aspects of real estate appraising by delivering quality assessments. In matters of appraising New York City we are one of the foremost leaders within the real estate valuation field. Call Today 347-238-1276
Any valuation, Any type of Real Estate, Anywhere in NYC
Unlike most other real estate appraisal firms who work only for banks and mortgage companies, our firm specializes in providing home appraisals for a variety of personal, legal, and tax-related uses.
Our appraisers are licensed by New York State as Certified Real Estate Appraisers.
As a result, we are familiar with the circumstances surrounding your particular situation and we understand your appraisal needs better than anyone else.
Our firm can custom tailor a product to fit all your valuation needs.
All appraisers and inspectors associated with our firm live and work in the areas where they perform assignments. This ensures our clients receive the most professional and accurate appraisal reports
in a timely manner.
You can begin working with us by creating an account.
Our appraisals are accepted by
Banks
Courts - State and Federal
IRS and State Tax Agencies
Medicaid and Immigration
NYC Buildings Dept
Accountants/ CPA's
Bail Bond
FHA
Flagstar
Fannie Mae
Fredie Mac
Realtors
What our clients are saying about us
The appraisal itself was very professional, thorough, organized and fast! The appraiser was extremely helpful and reliable, he answered all our questions to the best of his knowledge. We highly recommend Amsterdam Appraisals to all our friends and family!

Daniel Shapiro

Flushing NY

I was very pleased with your services! You conducted yourself very professionally and did a very thorough appraisal of my home. I would not hesitate to recommend you!.

We appreciate all the work that you have done to help lower our taxes. We were very impressed with the work and service that you have provided. Everyone in the office has been very much helpful! The report, the pictures and timeliness was simply marvelous!

Ashly Prescott

Old Wetbury, NY
Organizations we work with
FBI

NY State Goverment

Department of Justice

FHA

Fannie Mae & Freddie Mac

IRS